When it comes to DIY home improvement projects, having the right tools can make all the difference. Painting is a common project that can transform the look and feel of your home. To achieve professional-looking results, investing in a high-quality house paint sprayer is essential. In this blog post, we will discuss the top 10 house paint sprayers that are perfect for DIY home improvement projects. Whether you're tackling an exterior or interior painting job, these sprayers offer efficiency, versatility, and excellent results.
1. Wagner Control Spray Max HVLP Paint Sprayer
The Wagner Control Spray Max is a versatile HVLP paint sprayer known for its fine finish capabilities. It offers adjustable pressure settings and works well with various materials, making it ideal for small to medium-sized DIY projects.
2. Graco Magnum X7 Airless Paint Sprayer
The Graco Magnum X7 is an airless paint sprayer designed for larger DIY projects. It delivers high-pressure spraying and can handle a wide range of materials, making it suitable for exterior house painting and larger surfaces.
3. HomeRight Finish Max C800766 Paint Sprayer
The HomeRight Finish Max C800766 is a compact HVLP paint sprayer that provides professional-looking finishes. It's lightweight and easy to use, making it suitable for smaller projects like furniture refinishing and crafts.
4. Fuji 2202 Semi-PRO 2 HVLP Spray System
The Fuji 2202 Semi-PRO 2 is a professional-grade HVLP spray system suitable for serious DIYers. It features a powerful turbine motor and adjustable pattern fan control, making it ideal for a wide range of projects.
5. Tacklife SGP15AC Advanced Electric Spray Gun
The Tacklife SGP15AC is an electric spray gun that offers convenience and ease of use for DIY painting projects. It features adjustable spray patterns and is suitable for both indoor and outdoor applications.
6. Rexbeti Ultimate-750 HVLP Paint Sprayer
The Rexbeti Ultimate-750 is an affordable HVLP paint sprayer known for its versatility. It provides precise control and is suitable for various DIY painting projects.
7. Graco TrueCoat 360 VSP Handheld Paint Sprayer
The Graco TrueCoat 360 VSP is a handheld paint sprayer that offers exceptional portability and control. It's suitable for both indoor and outdoor projects, providing a professional finish.
8. Wagner Flexio 590 HVLP Paint Sprayer
The Wagner Flexio 590 is a versatile HVLP paint sprayer with adjustable settings for precise control. It's suitable for walls, ceilings, furniture, and other DIY painting applications.
9. Titan ControlMax 1700 Pro Electric Stationary Airless Paint Sprayer
The Titan ControlMax 1700 Pro is a stationary airless paint sprayer designed for larger projects. It features high-efficiency technology and is suitable for exterior painting and other large-scale surfaces.
10. DeVilbiss 802342 StartingLine HVLP Gravity Spray Gun Kit
The DeVilbiss StartingLine HVLP Spray Gun Kit is a comprehensive set designed for automotive painting and refinishing. It provides excellent control and precision for achieving professional finishes.
These paint sprayers offer a range of features and are suitable for different project sizes, surfaces, and materials. Consider the specific requirements of your DIY home improvement project to choose the paint sprayer that best fits your needs.
Choosing the Best House Paint Sprayer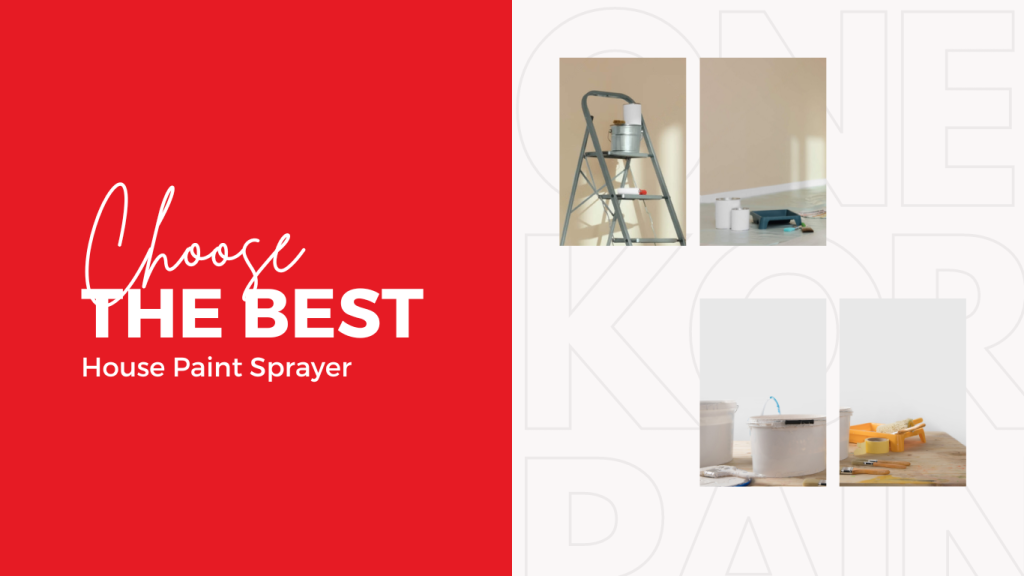 Are you planning to give your home a fresh coat of paint? If so, you've probably realized that choosing the right tools can make a world of difference in the final result. One of the most crucial tools you'll need is a house paint sprayer, especially if you want a smooth, professional finish. In this guide, we'll walk you through everything you need to know about selecting the best one for your project.
Why Use a House Paint Sprayer?
Before diving into the specifics, let's discuss why you should consider using a household paint sprayer. Unlike traditional brushes and rollers, paint sprayers offer several advantages:
Efficiency: Paint sprayers cover larger surfaces quickly, saving you time and effort.
Uniform Finish: They provide a smooth, even coat of paint for a professional look.
Versatility: Paint sprayers can handle various types of paints, including latex and oil-based.
Types of House Paint Sprayers
There are two primary types of house paint sprayers: Airless Paint Sprayers and Airless Exterior Sprayers.
Airless Paint Sprayer: This type uses high pressure to atomize the paint, resulting in a fine spray. It's excellent for both interior and exterior projects, offering a uniform finish.
Airless Exterior Sprayer: Specifically designed for outdoor use, these sprayers are ideal for large surfaces like fences, decks, and siding.
Factors to Consider When Choosing the Best House Paint Sprayer
Project Size: Consider the size of your project. For smaller jobs, a handheld sprayer may suffice, while larger projects may require a professional-grade unit.
Paint Compatibility: Ensure the sprayer can handle the type of paint you plan to use, whether it's water-based or oil-based.
Adjustable Settings: Look for a sprayer with adjustable pressure settings and nozzle options for greater control.
Ease of Cleaning: Easy cleanup is essential. Choose a model with detachable parts that are easy to clean.
Portability: If you have multiple projects or plan to share the sprayer, consider its weight and portability.
Budget: House paint sprayers come in a range of prices. Determine your budget and find the best sprayer within that range.
If you're working on a one-time project and don't want to invest in a paint sprayer, consider house paint sprayer rental services. Many hardware stores offer rental options, allowing you to access professional-grade equipment without the long-term commitment. Choosing the best house paint sprayer is a critical decision that can significantly impact the outcome of your painting project. Take the time to evaluate your needs, budget, and project scope before making your selection.
Achieve Flawless Painting Results: Top 10 House Paint Sprayers for DIY Enthusiasts
A One Korean Painting presents the top 10 house paint sprayers for DIY enthusiasts, offering precision, user-friendly features, and compatibility with various paint types. Whether you're repainting your walls, giving your furniture a fresh look, or tackling exterior projects, these paint sprayers can help you achieve flawless results.
Graco Magnum X7
Wagner Control Pro 130
HomeRight Super Finish Max
Fuji Spray Semi-PRO 2
Graco Ultra Corded
Wagner Flexio 590
Titan ControlMax 1700 Pro
Graco TrueCoat 360
Wagner Power Painter Plus
HomeRight Finish Max C800766
Expert Recommendations: Top 10 House Paint Sprayers for DIY Home Improvement Projects
At A One Korean Painting, we've done the research for you. In this blog post, we will discuss the key factors that experts consider when recommending a paint sprayer and provide a list of the top 10 house paint sprayers for DIY projects, along with brief descriptions of each.
Graco Magnum X7 Airless Paint Sprayer
Wagner Control Pro 150 High Efficiency Airless Paint Sprayer
Fuji Spray Semi-PRO 2 HVLP Paint Sprayer
Graco TrueCoat 360 DS Handheld Paint Sprayer
Titan ControlMax 1700 Pro Electric Airless Paint Sprayer
HomeRight Super Finish Max Extra HVLP Paint Sprayer
Graco Ultra Cordless Airless Handheld Paint Sprayer
Wagner Flexio 590 HVLP Paint Sprayer
HomeRight Power Flo Pro 2800 Airless Paint Sprayer
DeVilbiss 802342 StartingLine HVLP Gravity Spray Gun Kit