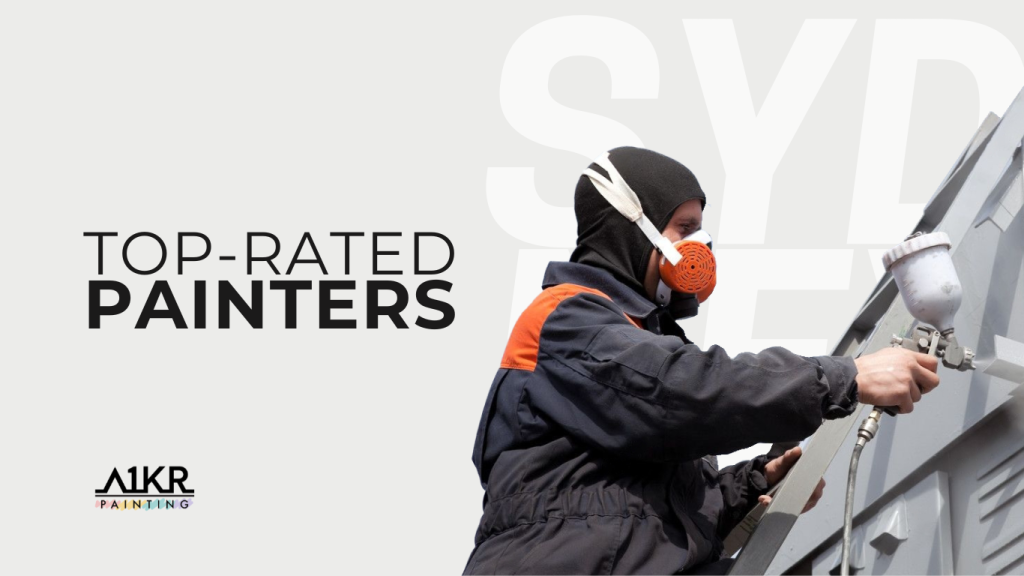 When it comes to elevating the aesthetic appeal of your spaces, A One Korean Painters Sydney stands out as a top-rated name in the realm of painting services. Our commitment to excellence and a passion for turning your visions into vibrant reality set us apart as the premier choice for painters in Sydney.
Our expertise spans a broad spectrum, from residential to commercial projects, and our portfolio showcases a diverse range of styles and techniques. We get that your home shows who you are and what you want in life. We approach each project uniquely, combining our technical prowess and deep understanding of your preferences.
As painters in Sydney, we are dedicated to surpassing expectations. Our goal is to add color to walls and breathe life into your surroundings. With a dedication to quality, efficiency, and affordability, we are committed to providing the highest standard of service that transforms your spaces into inspiring canvases.
Experience the difference between A One Korean Painting. Contact us today to embark on a journey that turns your painting dreams into vivid realities. Let us be your partners in enhancing the aesthetics and charm of your spaces.
Most Trusted Painters in Sydney
What sets One Korean Painting apart as the most trusted painters in Sydney is our unwavering commitment to excellence, reliability, and customer satisfaction. With a track record of delivering impeccable results and transforming spaces, we've earned the trust of countless clients.
Our team of skilled painters brings expertise, creativity, and professionalism to every project. We understand the significance of your spaces and treat each endeavor with meticulous care, ensuring that every detail is ideally addressed.
At A One Korean Painting, we prioritize clear communication, punctuality, and delivering outcomes that meet and exceed expectations. Our dedication to using high-quality materials and efficient techniques ensures enduring results that stand the test of time.
Experience the confidence that comes with entrusting your painting needs to the most trusted painters in Sydney. Contact us today to embark on a painting journey that elevates your spaces with precision, professionalism, and artistic finesse.
Our Sydney Painting Services
A One Korean Painting proudly offers various top-notch painting services in Sydney. With a commitment to quality, professionalism, and attention to detail, we cater to diverse painting needs to enhance the aesthetics and value of your spaces. Explore our comprehensive range of services:
Residential Painting
Elevate the charm of your home with our residential painting services. Our skilled painters transform interiors and exteriors using premium paints and techniques that breathe new life into your living spaces. From color consultations to flawless execution, we create inviting environments that reflect your unique style.
Commercial Painting
Our commercial painting services deliver outstanding results for businesses seeking a fresh and polished appearance. We understand the impact of aesthetics on your brand and customer experience. We revitalize your commercial spaces with minimal disruptions, leaving a lasting impression on clients and employees alike.
Strata Painting
A One Korean Painting specializes in strata painting, addressing the unique needs of multi-unit complexes. Our team efficiently coordinates painting projects that enhance the curb appeal of strata properties. With an emphasis on collaboration and precision, we create harmonious exteriors that elevate the overall appeal of your community.
Choose A One Korean Painting for a seamless painting experience that transcends expectations. With a wide range of services designed to cater to your specific needs, we're dedicated to delivering results that transform your spaces into captivating works of art. Contact us today to initiate your painting project with professionals prioritizing quality and customer satisfaction.
Why Choose A One Korean Painting?
Choosing A One Korean Painting means choosing a team of dedicated professionals ready to transform your spaces into stunning works of art. Here's why you should entrust us with your painting needs:
Reliable, Friendly, and Trustworthy Painters
Our team comprises painters you can rely on for exceptional results and a positive and friendly experience. We understand the importance of trust and aim to establish lasting relationships with our clients.
High-Quality Products
We believe in delivering excellence and use only premium, top-tier paints and materials. Our commitment to quality ensures that your spaces are beautifully painted but also durable and long-lasting.
Efficient Working
Efficiency is at the core of our approach. Our skilled painters work swiftly without compromising the quality of work, ensuring minimal disruption to your routine.
Handling All Scales of Painting in Sydney Works
We can handle any project, whether it's big or small. From residential homes to commercial spaces, we have the expertise to handle painting projects of any scale, delivering consistent quality across the board.
Attention to Detail
We believe perfection lies in the details. Our painters pay meticulous attention to every brushstroke, ensuring that your painting project is flawlessly executed down to the smallest element.
Customized Solutions
Your preferences and needs matter to us. We offer personalized solutions aligning with your vision, ensuring your spaces reflect your unique style.
Working Within the Pre-Decided Schedule
We respect your time. We stick to a schedule when we commit to it, ensuring that your painting project is completed as agreed upon.
Reasonable Pricing
You can get good stuff without spending too much money. We offer competitive, reasonable pricing that ensures you receive top-notch painting services without breaking the bank.
Discover the difference of One Korean Painting for yourself. Contact us today to begin your painting journey with professionals who prioritize quality, customer satisfaction, and transforming your spaces into vibrant expressions of art. Your dream spaces are just a brushstroke away.
Cost-effective and Methodical Approach to Our Painting Projects
At One Korean Painting, we take pride in our cost-effective and systematic approach to every painting project. Our process ensures you receive impeccable results that align with your vision while staying within your budget. Here's an overview of how we bring your painting projects to life:
1. Initial Consultation: We begin by understanding your painting requirements, preferences, and project scope. Our team listens carefully to your ideas, offering insights and suggestions based on our expertise.
2. Detailed Assessment: After evaluating the project's specifics, we provide a comprehensive assessment that includes the scope of work, materials required, and an estimated timeline. This transparent approach ensures you have a clear understanding of the process.
3. Customized Proposal: We present you with a customized proposal that outlines the details discussed, including costs, materials, and project schedule. We aim to provide a transparent and accurate representation of the project scope.
4. Preparation and Planning: We prepare the area meticulously before painting begins. It involves protecting furniture, surfaces, and flooring from potential paint splatters. We plan out the project to ensure efficient execution.
5. Surface Preparation: Surface preparation is crucial for a lasting finish. We address imperfections, clean surfaces, and apply primers when necessary to ensure the paint adheres smoothly and uniformly.
6. Expert Painting: Using top-quality paints and techniques, our skilled painters apply coats with precision. We pay attention to even coverage, sharp lines, and smooth finishes, ensuring professional results.
7. Thorough Inspection: Upon completion, our team conducts a thorough inspection to ensure the project meets our high standards. We address any touch-ups or adjustments needed to guarantee your complete satisfaction.
8. Final Presentation: We present you with the transformed space, showcasing the results of our meticulous efforts. Your input and feedback are welcomed as we aim to ensure your vision has been brought to life.
Our systematic approach combines craftsmanship, attention to detail, and affordability to provide a painting experience that exceeds expectations. Whether it's a residential, commercial, strata, or industrial project, A One Korean Painting's process ensures a beautiful outcome that enhances the aesthetics of your space.
Searching for "Painters Near Me?": Contact A One Korean Painting Now!
Ready to elevate your spaces with our cost-effective painting solutions? Experience the One Korean Painting difference today. Contact us to discuss your project, receive a personalized proposal, and embark on a painting journey that transforms your vision into a vibrant reality.