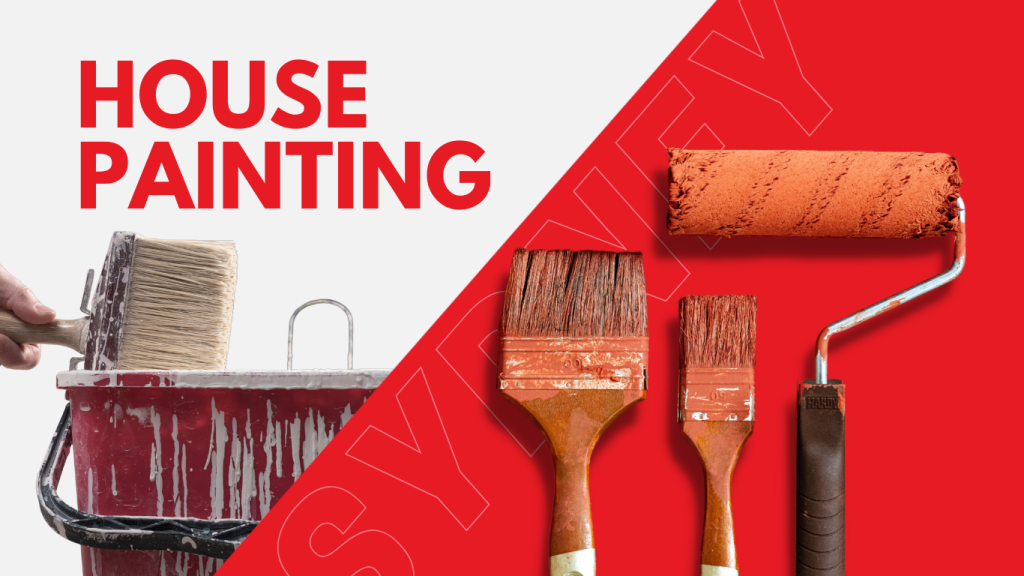 Are you looking for a reliable and professional residential painting in Sydney for your home or business? There's no need to look any further! For all of your painting requirements, we are your go-to specialists. Our team of expert painters and our years of expertise allow us to provide top-notch residential painting solutions that revitalize your property. Our devoted staff is committed to altering your area with accuracy and attention to detail, whether you want to modernize the inner rooms or redesign the outer facade. We are proud to offer outcomes that go above and beyond your expectations since we recognize that your house is a reflection of your own style.
We manage every stage of the house painting process with skill and professionalism, from color consulting to surface preparation and faultless application. Our staff is knowledgeable about distinctive architectural designs, so you can rest easy knowing your home painting project is in capable hands. We put your pleasure first at every level and collaborate closely with you to comprehend your goals. We provide individualized solutions based on your tastes, making sure the finished product precisely satisfies your aesthetic objectives.
You can count on superb artistry, dependable service, and a dedication to utilizing top-notch materials when you choose our house painting in Sydney. We handle your house with the highest respect and care since we recognize how significant an asset it is. To book a consultation and get a tailored price, get in touch with us right now.
Key Focus Areas
Here are our primary fields of expertise that distinguish us from other painting companies:
Tailored Solutions to Exceed Customer Expectations
We favor offering specialized solutions that go above and beyond the norm. Our team of professional painters spends time learning about your particular needs and preferences to ensure that the finished product not only meets but also surpasses your expectations. We adapt our services to offer a unique and remarkable painting experience, from color selection to finishes and textures.
Timely Completion Regardless of Project Size
We respect your time and work diligently to accomplish each assignment quickly and according to schedule. No matter the size of the home painting project—from a single room to a whole house—our staff is committed to meeting deadlines without sacrificing quality. We are equipped with quality residential painting services in Sydney to handle projects of any scale and guarantee a quick and easy workflow from beginning to end.
Personalized Approach to All Our Clients
We firmly believe in establishing long-lasting partnerships with our clients. We use a tailored strategy, making an effort to comprehend your unique demands and preferences. For every residential painting jobs, our staff works directly with you, offering suggestions, alternatives, and open communication. In order to provide a satisfying and cooperative experience, we are dedicated to your pleasure.
The Use of Environmentally Friendly and Lead-Free High-Quality Paints Utilized
We place equal importance on protecting the environment and our clients' health. We only use superior, lead-free, ecologically safe paints because of this. In addition to offering great durability and a lovely finish, these paints help you and your loved ones live in a more pleasant environment by reducing hazardous emissions.
Thorough Preparatory Work for Long-Lasting Residential Painting in Sydney
Residential painters in Sydney place a strong emphasis on meticulous planning before beginning any home painting projects to ensure their durability and excellence. Surfaces are painstakingly prepared by our crew, which also cleans, sands, and fixes any flaws. This focus on detail guarantees that the paint adheres correctly, produces a finish that is smooth and faultless and endures the test of time. We think that thorough prepping is essential to a successful and durable paint job in your Sydney house.
Why Partner with Us for Your Residential House Painting in Sydney?
We are a reputable painting company in Sydney that has a reputation for providing excellent home painting services. The following are some reasons for hiring us:
We Cater to the Needs of Both Residential and Commercial Clients
We can help, whether you're a homeowner wanting to update your living space or a company owner in need of residential painting services. For both residential and commercial clients, our team can deliver outstanding outcomes since we have the knowledge and tools to manage projects of all sizes.
Cost Effective House Painting in Sydney
Residential painters in Sydney are aware of how crucial budgetary issues are. Because of this, we provide affordable house painting services without sacrificing quality. The highest return on your investment is guaranteed by our open pricing, aggressive pricing, and effective procedures.
Guaranteed Customer Satisfaction
Our first goal is to make sure you are happy. We provide a satisfaction guarantee and stand by the caliber of our work. Our skilled house painters go above and beyond to exceed your expectations by doing any required touch-ups or tweaks to guarantee that you are thrilled with the outcome.
Established House Business With a Reputation for Quality Services
We have established a solid reputation in the industry thanks to our many years of expertise and successful track record. Our well-established company is renowned for providing top-notch residential painting services in Sydney. You may put your faith in our knowledge, professionalism, and commitment to excellence.
Dependable and Meticulous Professionals
You may depend on our group of trustworthy and careful experts when you pick us. Our meticulous attention to detail and sense of pride in our work provide an impeccable result that goes above and beyond your expectations. You can rely on us to manage your project with accuracy and attention.
Worker's Compensation and Full Insurance Coverage
Your comfort and the safety of our crew come first. We offer worker's compensation and uphold complete insurance coverage since we are a trustworthy painting contractor. You may feel secure knowing that our workers and your property are both protected during the painting process.
Fostering Strong and Long-Lasting Client Relationships
We value establishing enduring, solid connections with our clients. Trust, cooperation, and open communication are important to us. In order to create a productive working environment based on respect and happiness for all parties involved, our staff works hard to comprehend your needs and preferences.
When you choose us as your painting partner, you can count on a flawless process, affordable solutions, a satisfaction guarantee, and a dedication to quality. Count on our seasoned company to meet your needs, build lasting partnerships, and produce excellent outcomes.
Get in Touch with Our Expert Painters in Sydney Today!
You may get in touch with us by calling 0450 661598, the number for A One Korean Painting, or by sending us an email with your needs. Your query will receive a timely response from our committed staff. Because we appreciate your comfort, we will schedule a meeting to visit your premises at a time that works best for you. During the visit, our representative will evaluate the space in your home, gain an understanding of your unique needs, and provide you with a free quote.
Our goal at A One Korean Painting is to go above and beyond for our clients while bringing them delight. Not only do we paint walls, but we also bring brilliant colors into people's daily lives. Expertise is required for Sydney house painting, and you can count on us to provide it. Call us right away to talk about your needs, and let's bring some color into your house.